You may have noticed that I recently launched a PDF mark-up course. How to Mark Up PDF Page Proofs will help anyone who works with Adobe Reader DC to get the most out of the available tools and be more efficient in communicating any changes or corrections to their client.
However, since then I've had a few questions from people who were interested in the course but wanted a bit more information, so I decided to write this blog post to explain everything you need to know before committing your money to it.
What is 'How to Mark Up PDF Page Proofs'?
This is a self-paced course that will teach you how to make the best use of the settings and tools available for marking up and commenting in the free version of Adobe Reader DC.
Yes, that's right, the free version! In my experience everything you need to produce an accurately marked up text is available to you in the free version, so no additional expense is needed.
Why did I create this PDF mark-up course?
PDF mark-up using Adobe Reader DC is a very common way of marking up changes to laid-out and designed pages, whether they are page proofs for a publisher, marketing or comms materials for a company, training materials for an organisation, or any of the myriad ways PDFs are used in business.
However, we often pick up information about using the tools piecemeal, which means we can miss out on useful functions and may not use the tools we do know about in the best way.
I wanted to bring together everything I've learned about working with PDFs – and I've marked up many thousands of pages in more than ten years of professional proofreading – in one place. You can work through everything the free Adobe Reader DC has to offer you and learn useful methods for effective and efficient mark-up.
Who is this course for?
Whatever your job title – you may be an editor or proofreader, a marketing manager, a comms consultant, or none of these things – if you work with PDFs I've created this course for you.
Who is this course not for?
If you want to learn how to use the paid version of this software – Adobe Pro DC – to actually edit the text and images in a PDF, this course isn't for you.
'How to Mark Up PDF Page Proofs' is specifically for learning to use the tools to mark up and comment on PDFs using the free Adobe Reader DC software. You then return the marked-up file to your client or designer for those changes to be implemented by them.
So if you need to do more than mark up and comment on PDFs, this is not the right course.
The information in this course does not apply to other software that may be used for marking up page proofs.
What's included in the course?
The course delivers over two hours of instruction via screencasts to show the mark-up tools and other functions, using a variety of documents to demonstrate their use in real time.
There are 14 videos across eight modules, each covering a specific aspect of the principles and practice of PDF mark-up using Adobe Reader DC.
The modules are split into lessons, which are manageable chunks for you to work through at your own pace.
End-of module quizzes help you to reflect on your new knowledge. Do you understand everything or do you need to go back and review the lesson content again?
Downloadable resources are available to help you further:
a glossary of proofreading terms
a proofreading checklist
a cheat sheet of keyboard shortcuts for Windows and Adobe Reader DC
a resources sheet directing you to more information on proofreading
access to ready-made downloadeable BSI proofreading stamps
At the end of the course you can download a course completion certificate. This can be used as evidence of continuing professional development for your employer or professional organisation. For example, the Chartered Institute of Editing and Proofreading recognises this course as part of their membership upgrade process and has awarded it three training points.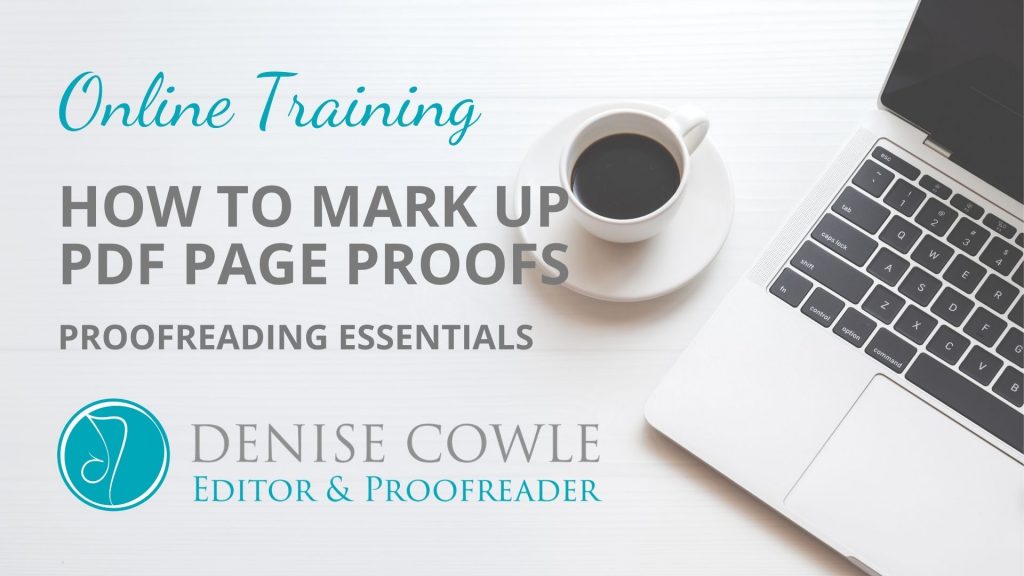 What exactly does this PDF mark-up course cover?
The course gives an overview of the principles of PDF mark-up and where proofreading fits in the traditional publishing workflow.
It then goes on to explain the Adobe Reader DC interface in detail and how to select, use and modify the tools available.
Finally it looks at best practice and working efficiently and effectively. Here is how this breaks down across the eight modules:
proofreading in the publishing workflow
the principles of PDF mark up
understanding the Adobe Reader DC interface
using the inbuilt tools
customising the tools
using imported stamps
best practice in mark up
additional techniques for efficient practice
How much does it cost?
Immediate lifetime access to the course is £79. Payment is taken via PayPal, so if you are outside the UK the fee will automatically be converted to your local currency by PayPal. I have no control over the rates that they set and use. You do not need a PayPal account.
How long will it take to go through the course?
The course running time is around two-and-a-half hours, but feedback suggests that it might take you between three and five hours to work through and absorb the content.
The beauty of a self-paced course is that there is no pressure to work through it at a set speed. You can take your time and do one module a day, or one a week, or you can power through the entire sequence in an afternoon. The choice is yours.
What will I need to get started?
If you haven't already, you will need to install Adobe Acrobat Reader DC. This is free software which you can get from the Adobe site here.
You might find it helpful to have a PDF open so you can practise in real time as tools and techniques are explained and demonstrated. It is easy for you to pause the videos while you do this.
You do not need to download the BSI proofreading stamps unless you plan to use them in your work.
Who delivers the course?
I am the course tutor and you will hear my voice guide you through each of the modules. I have marked up thousands of PDF pages over the years using this free software, so I know my way around it!
How do I access your PDF mark-up course?
You can purchase the course through my training site. Enrolment is immediate and you will receive an email with a link to access all of the modules.
What results can I expect?
By completing my PDF mark-up course you will have a firm understanding of the scope of this work, how to select, use and modify the tools available, and best practice in markup. This should give you more confidence in working with PDFs, whatever your role.
If you're a proofreader you will have more confidence in accepting work from clients who will assume you are competent in this skill, e.g. marking up second page proofs for publishers in a way that is clear and efficient.
If you work for another type of company or organisation you can be confident that you will be using the tools in a way that is easy for your colleagues and/or your designer to understand. You should be able to express what changes you want them to make clearly and unambiguously.
Will the course teach me how to proofread?
No. This course focuses on using the tools in Adobe Reader DC to mark up a document effectively and efficiently. It does not teach you the skills needed to identify and correct the errors. This course is a useful adjunct that sits alongside core skills training in proofreading.
If you're interested in training as a proofreader, I teach online courses in conjunction with Publishing Scotland, which are open to anyone regardless of location. For more information about this and other courses please visit my courses page.
You can also access training in proofreading and editing through organisations such as the Chartered Institute of Editing and Proofreading and the Publishing Training Centre in the UK, and many other editing organisations globally.
How do I sign up to your PDF mark-up course?
Please go to my training site – just hit the button below to sign up and get started!