I'm in a 'mastermind group'. Sounds cool, doesn't it?
Admit it – you're imagining me in a secret island lair, plotting world domination with my shadowy colleagues, from the comfort of my black swivel chair. Am I stroking an extravagantly coiffed white cat, too?
Err, no. I'm allergic to cats. They flare up my asthma something terrible …
Back to reality. No island retreat, more's the pity, but I have been doing some serious reflection and planning. And my colleagues were definitely not shadowy.
I recently took part in an editors' retreat with six colleagues. It was an inspiring, exhausting, thought-provoking and uplifting weekend. If you're wondering why anyone would choose to do that, let me explain.
What is a mastermind group?
The purpose of a mastermind group is to provide support to members in achieving self-identified goals; members share their knowledge and experiences to help each other.
There are different ways of constructing a mastermind group. It can be formed by people from different but related business areas, or by people from within a specific sector.
I think it's worth mentioning that diversity is a good thing in a mastermind group – it helps if people have a variety of backgrounds and experiences, as this provides the opportunity for cross-fertilisation of ideas and we benefit from others' experiences and perspectives.
In my group we are all professional freelance editors, running our own businesses, but we all have different backgrounds, with different routes to where we are now. We work with widely varying client bases, although some of us do overlap.
How did my mastermind group get started?
​I'd seen that some North American colleagues had organised a retreat, which piqued my curiosity, and on asking around on Facebook it was soon apparent that several other editors were interested in doing something similar in the UK.
​We set up a private community using Slack and began the process of getting to know each other via this and a few face-to-face calls using Zoom.
The important thing to say here is that we didn't rush into any big commitments. We took time to get to know each other and what we wanted to get out of a group.
Slack gave us the space to explore a few different topics and see where we had similar goals and stumbling blocks regarding our professional development and business practices.
​Once it became clear that we were all compatible and felt comfortable sharing and discussing honestly and openly, we set about organising and coordinating our weekend retreat.
Why have a mastermind group 'retreat'?
For editors who run their business from home, there are clear benefits to investing time and money in a retreat weekend.
Dedicated time away from the distractions of family and home life

More time to focus completely and in depth on work-related issues

Explore personal, professional and business development
​We spent a good while on all the set-up details to make sure everyone was comfortable with what was proposed; from accommodation to travel to the schedule, it was essential that everyone felt involved and catered for.
And eventually the time came. And it was the hottest weekend in London for the past forty years. Of course it was.
Getting there
To make the most of the UK's labyrinthine rail pricing system, I'd travelled down to London on the Thursday and stayed with friends, so I only had a straightforward trip across London. (No, really, it was straightforward! I may be one of the few people who loves the London Underground, but then, it is a novelty to me.)
Arriving early, I sat in the sun, enjoying a glass of wine and eating olives – well, it felt like I was in the Med, so why not 
– and 
I was soon joined by Margaret and Julia. After wine, olives and other delectables, we headed to our accommodation – a beautifully equipped four-storey Edwardian house next to Wandsworth Common. Perfect.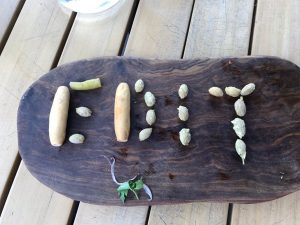 One by one our fellow editors arrived – Liz, Melanie and Abi – and we found a democratic way of allocating rooms. The important issue of which takeaway to order was settled; I drew the short straw and phoned in the order (we all hate making phone calls, it transpired).
What's covered in an editorial retreat?
FIRST EVENING
The only 'official' session the first evening was the ice-breaker, 
expertly organised by Julia
. Our trans-Atlantic group member Janet, in Toronto, joined us 
via Skype
. It was a fun way of getting to know a bit more ( at times rather unexpected and hilarious information) about each other, and I think it was the perfect way for us all to feel a bit more relaxed in each other's company.
DAY ONE: MORNING SESSION
Some of us (naming no names, but not me!) ventured out for an early morning walk / jog / run around the Common.
Then it was down to the serious retreat business!
We had a packed timetable from 9 a.m. to 6 p.m., and each session had a facilitator, a note taker and a blogger. (So expect to see more detailed reports on the sessions.)
At our first morning session we reviewed what our objectives were for the weekend and then focused on the skills we already have. 
A skills audit made us think very hard about all of our skills, not just the obvious editorial ones which immediately spring to mind.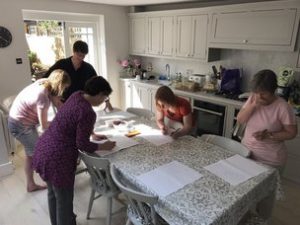 We also discussed how we share our skills now and how we could do more of that in the future. Our experiences of providing (and receiving) formal and informal skill sharing include mentoring, structured training courses and via online groups, e.g. the Society for Editors and Proofreaders' members forum, and in open and closed Facebook groups.
Unsurprisingly, the always-relevant topic of what our skills are worth and how we monetise them provoked a lot of discussion.
After a welcome break (more cold water was drunk than tea
 – 
the temperature was climbing steadily), we moved on to the session which was anticipated with some trepidation: the group edit.
When did you last have a piece of your work looked at closely by one of your peers?
Editors almost never experience this.
 We return work to our clients and may occasionally get feedback from them, but probably not. Having another editor look at your work makes you feel very exposed: Do they do things the same way as you? Will they think your edits are heavy handed, too light, or plain wrong? What if I'm a terrible editor?
Despite our natural concerns, this session worked extremely well. We each supplied an anonymised piece of our work and talked through the main features of the edit. We discussed how the timescale, budget and client type all influence where we focus our editing and how much time we spend on it.
An unplanned bonus in this session was that we all provided very different samples from a variety of sectors and client types, which allowed for a wide-ranging discussion on many factors including managing references, editing technical documents and preserving the author's voice.
After such an intense session, lunch was very welcome, and we ventured out into the blistering heat (seriously!) to a local deli for some serious refuelling.
DAY ONE: AFTERNOON SESSION
After lunch our next session focused on the skills we need to keep working on: continuing professional development, communication, networking, staying focused, and being efficient and effective.
Several of us facilitated various parts of this session, and there were some challenging exercises to work on which really made us think hard. 
It became really apparent just how beneficial it is to spend time talking in depth about a subject, unfettered by our daily routines.
In the final session of the day we took time to examine work-life balance and came to the conclusion that there may in fact be no such thing as the perfect balance; it's a constant see-sawing between the two.
We also debated the future of publishing and how freelance editing might fit in this sector and others. These are uncertain times for the publishing industry, and for editorial professionals. But with uncertainty comes opportunity, and it's up to us to be proactive and position our businesses. Whether that is to focus on publishers, or on other sectors, or both, is for each of us to decide. 
After some welcome down time, we went out for dinner. Some cocktails may have been involved, but I couldn't possibly comment.
DAY TWO
​We only had a morning session on the second day, due to travel commitments.
There was a lovely confidence-building exercise on 'why we are all great' and then we reviewed what we'd done: Did we achieve what we'd intended? What were our next steps going to be?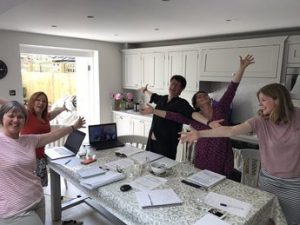 Is a mastermind retreat worthwhile?
There's no doubt in my mind that we all got something out of the retreat, even if it wasn't what we expected. Some of us realised that much of what we are doing is right for us, and that we don't have to conform to how others run their businesses.
There were several lightbulb moments during and after the event, and we all agreed that the next week was spent mulling over the issues that struck home with us.
Taking time out from your daily routine to reflect, review and plan can never be a bad thing.
Doing that in a pleasant environment, far removed from your daily routine and all the distractions it brings allows you to focus fully and deeply on the topics you've chosen.
And having similarly focused, likeminded colleagues who are willing to question and challenge themselves in an atmosphere of honesty and openness is an invigorating and affirmative experience.
Will we do it again? I think we will. It might be a slightly different format and we'll probably do some things differently, based on our experience this year.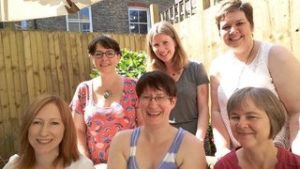 Like most things in life, you get out of a mastermind group what you put in. I'm thankful that my group members gave 100 per cent in the preparation of and participation in our retreat.
Over to you
Are you in a mastermind group? Does it function in a similar way to this one? I'd love to hear others' experiences and ideas of what makes a successful group.
If you're not in a group, has this inspired you to start one? Let me know if it has!
If you're going to the SfEP annual conference at Wyboston Lakes in September, I'm running a session on setting up an accountability group. Let me know if I'll see you there, and be sure to come and say hello if we haven't already met!